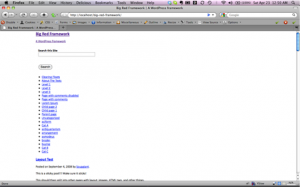 The Big Red Framework is intended for web developers creating bespoke themes for their clients. It contains a ton of options for the developer to configure, without a messy options screen cluttering up the WordPress admin.
The framework includes:
Micro-formats
ARIA roles
html5 form inputs
html5 inline tags
Credits
We've developed this framework to make our lives easier. It includes some other projects that also make our lives easier, in alphabetical order they are:
Fancybox, a lightbox clone.
…and various odds & ends we've picked up from the interwebs
Using the framework
Never create your client's site in the big-red-framework theme folder. Instead you should create a child theme and use that to house the CSS, custom JavaScript, images and the site's settings.
The WordPress Codex has a page on using child themes.
Creating a child theme
Copy the files from the starter directory into the base folder of your child theme
Create the sub-directory assets in your child theme
Copy the framework's assets/child/ directory into the assets directory of your child theme
More documentation to come. Really, most of it's already written!